My Bio



I was born






Faron Sebastian Collins



in Dallas,Texas - August 7,1956
My first name given by my mother and my middle name by by dad after my uncle Bill Blessing.
He also gave me the nickname Bo after Bobo Olson a prize fighter who was fighting the night I was born. My dad gave me my first guitar,an old f-hole Kay guitar.
I was 5-6 years old,and the guitar was bigger than me and almost impossible to play
(it was equipped with some very rigid Black Diamond strings).
There wasn't a lot of music on the radio at that time and I use to listen to my dad and moms records.
My dad's records were some Hank Williams albums (I remember the blue cover of one I think it was Honky Tonkin'),
and some Hank Snow albums. My mom's records were Roy Acuff, Sonny James, Floyd Cramer, and Faron Young.
My mom used to take me to the Big D Jamboree to see the musical acts,
I saw Willie Nelson and Waylon Jennings (before the hair), Sonny James, Roy Orbison,
Charlie Pride, Bobby Bare and went backstage to meet Faron Young when I was 4 or 5.
I had a few 45's,mainly kids stories and Christmas songs.
But I used to listen to my parents records,and most of my early musical influences came from there.

And then came the music



The Beatles played on Ed Sullivan, it was like magic (I had never heard Rock and Roll before) and Beatlemania got in full swing.
Everyone including myself wanted to learn to play the guitar (electric guitar).
My first Beatle album was The Beatles Second Album, it had She Loves You, Mr. Postman and Long Tall Sally on it.
A friend down the street had the first album Meet The Beatles and talked me into getting that one also.
Then I got Beatles '65, and got charged by the feedback on I Feel Fine.
I also had Day Tripper on a 45, I used to spend hours spinning those records and singing along with them.
I had a Rolling Stones 45, Paint It Black, and a 45 of Paul Revere and the Raiders called Kicks.

I also bought albums by the cover pictures at that time,
if they had a cool looking cover I would ask my mom to buy it. One such album was Al Caiola-Tuff Guitar English Style,
I was probably the only kid on my block with that album, the cover had a English Bulldog in cartoon form playing a guitar.
And the record was fantastic, again I wore the grooves out of the record.


Then I found

an unusual type of music I guess you could call it car music.
The albums had pictures of hot rods on them and the songs had burnouts and motor noises on them.
One of the first albums I got was Hot Rod Alley by Jerry Kole and the Strokers, I remember My Model "A",
409 Woodie and Little Black Coupe. I also had The Blasters record called Sounds of the Drags.
Some of the songs were Hot Rod Center, Don't Count On The Looks, and Little Willys Dragster.
While I was in grade school, I went to a open house fair at the school one night,and they had a cakewalk.
The prizes for the cakewalk were records, 45's to be exact,and the game was easy enough,
so I played and ended up with a huge cache of 45's.
I got a Cream 45 of Badge, a Sam and Dave 45, a Junior Wells 45 of It's A Man Down There
and some unusual but very good records like The Magic Lanterns.

I used to go to sock hops at the local skating rink and watch the local bands.
One very memorable group was the Southwest F.O.B.,with band members John Ford Coley and Dan Seals (England Dan).
They were on the charts during the Acid Rock period with a song called "Smell Of Incense".

My mom had been buying me electric guitars for Christmas and Birthdays for several years,
and with the help of a couple of friends I had learned a few chords and a song or two.
But with the equipment I had, and the knowledge of the guitar,
it didn't avail much and as a result the guitars stayed in the closets mostly.

While I was in Jr. high school, I joined the school Orchestra and learned to play violin.
I was taught to read sheet music and we played classical songs,
and I never really knew if the songs were being played correctly
because I'd never heard them for the most part we just followed the conductor.
But we played the Christmas programs and those songs we had heard before,
and they were easy to tell what you were doing with them.
And then of course there were those of us who would
get in the back of the room and turn our violins into fiddles and start playing hillbilly music.

In the late 60's,I met my grandfather Fred's brother, William "Willie" Seiler.
Uncle Willie was a fiddle maker and a Blacksmith of German descent,
he handcarved fiddles in Yorktown,Texas.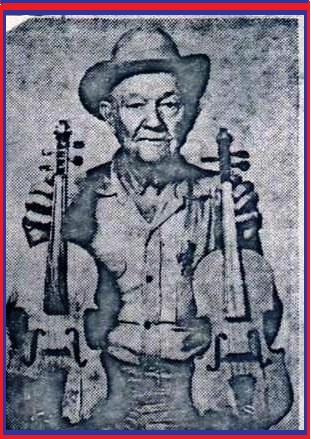 Uncle Willie took part in many fiddler's contest,and in Yorktown's Western Days he was chairman of the Old Fiddlers' contest.
I wanted him to carve me a fiddle,but as far as I know he never completed it,but pictured above is two that he did.

I Had Heard

Cream's - Sunshine Of Your Love by this time and the guitar seemed really powerful,
and though I was playing the violin at the time I still wanted to play guitar.
Then I happened across Jimi Hendrix - Cry Of Love with some very powerful songs,
In From The Storm, Angel, and Belly Button Window, and Astro Man.
This was the first Jimi Hendrix record I'd ever bought, which started a long influence in style of music.

By this time I was a teenager in high school and had Led Zepplin on my 8-track,
and driving around in my Red '66 G.T.O. hearing the riffs of Layla screaming across my radio and more influence in style.
Shortly after I left school I went to Colorado for awhile and I heard the Alice Cooper - Billion Dollar Babies album
and it made me want to get back to Texas and find my guitars.
I returned to Texas but my guitars had long since been sold,
but I bought a Vox Phantom VI and a Fender Twin Reverb amplifier,
the Vox played okay but the Fender amp was a little to clean for what I wanted to do.
But I started to play 2nd guitar in a band,
after several incarnations, I coined the bands name "The Blue Sky Blues Band".
We continued with this name until the bands demise in the early 80's.
I traded in the Vox and The Twin Reverb for a Ampeg V-4 Double Stack,
and a '75 Fender Stratocaster (CBS issue Chocolate brown w/Maple neck).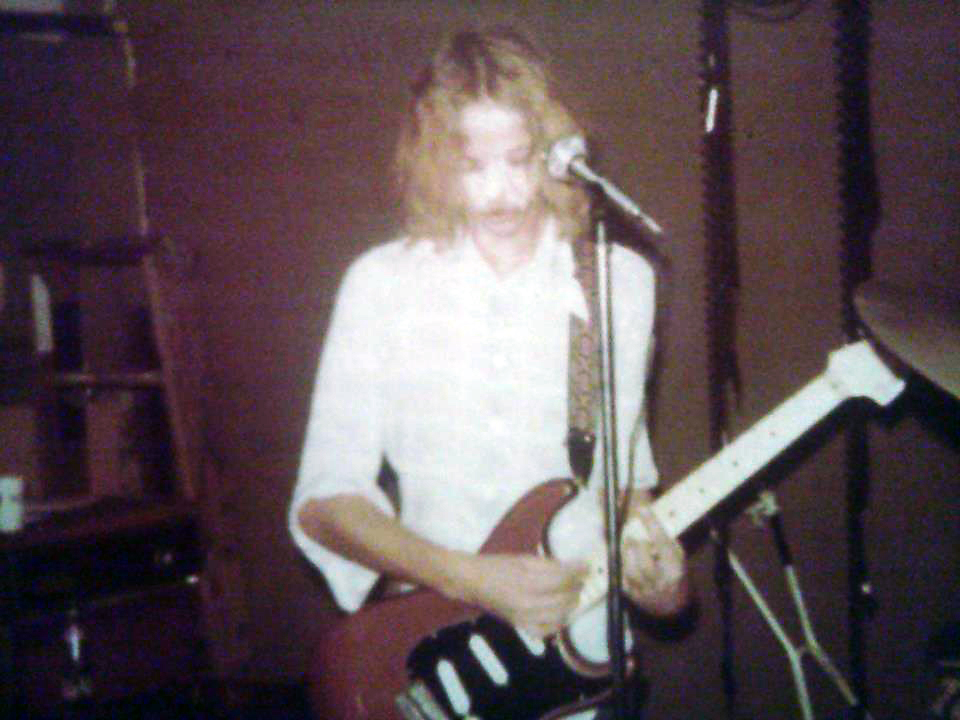 I had the power to alert every law officer for miles (and I did).

By Now

I had collected some sound modification pedals and began to incorporate them into my sound.
I had a MXR Dyna Comp, a MXR Phase 90, a MXR Distortion +,
an A/DA Flanger, a Cry Baby Wah-Wah pedal and a Octavia (a very wild two octave distortion ala Jimi).
We had evolved into a power trio by this time and I was doing the guitar work solo with a few vocals.
In '78 and '79 we did some memorable gigs,
one was at University Towers (now Turley Law Center) a rented room for a friends wedding party,
another was the Lobby of the Stoneleigh Hotel, but by far the best was The Wilmer Jam.
This was a party for a friend held in the middle of a field in Wilmer,Texas.
We were the headline band with another band that opened, we spent all day in the Texas heat
setting up a stage made of hay bales, covered with plywood and heavy tarp,
it was recorded and video taped and was the first time my song writing was ever brought to a audience.
I wrote a song for that gig called "Rockin' Saturday Night" a typical rock and roll boogie woogie song
and it got a good response from the crowd.That was to be probably the last time we played as a band on the same page though.
As good as the response was we were going in different directions and we disbanded some time later.

After trying to form another group and not being able to find the right chemistry I started a long journey.
A journey that started with that first song I wrote and has brought me here now,writing and recording every step of the way.
I obtained a 4-track Teac reel to reel and began to do multi-track recording,
but without other band members I had limits on what I hoped to achieve.
But I continued to write and record songs and amassed quite a library of recorded material.
Then one night a friend invited me to go jam with some friends of his.
I went and it wasn't all that spectacular but he had a nice set up.
But one thing that caught my eye was the drum machine on his keyboard,
it could be programed and had drum fills and plugged into a P.A. system had a very good sound.
I went out and bought me a keyboard and began to write full orchestrated songs again.
I would program the drum machine and lay down a rythym track and build from the drum kit up.

I founded my label My Own Records, Silver Box Productions and Chrome Film Entertainment.
Though I was the only one on the recordings it sounded like a full band,
at first I played the bass line on the keyboard and later I would buy a Fender Precision bass.
I recorded several albums worth of material during this time and distributed them among my friends.
Some of the titles were Zombie Head, Alive And Kickin', A Good Woman's Love, Theater Aus Liebe,
All You Pretty Women, Blue Steel, The Land Of Love, One From The Sky,
Rotten Little Monster, Lone Star, Songs About Texas Women and much more.
A lot of these were just honing of the art with sporadic direction and some are a bit comical nowdays.
But anyway......


Each of these titles had 10 or more songs on them.
But even though some of the songs were very good songs,
I still couldn't match the Million Dollar production values of the modern recording industry.
So I left the 4-track reel to reel and the 4-track cassette,and invested in a 8-track standalone hard disk recorder.
It improved the quality quite a bit,and I recorded my first CD from the 8-track called Light Of The World.
After the things I learned from the hard disk recording,I soon after began to record on my computer 24 Bit/96khz
with almost unlimited tracks and building drum kits from loops the sound is much improved over those early recordings
so much so that I re- recorded "I Played The Blues In Texas" and "Sweet Lorraine"
songs from a title called "One From The Sky" from '92.( And I have since began to record in 24 Bit/88.2khz)
to make better math when dividing down to 44.1khz.
Sweet Lorraine was the third song on the first side and I Played The Blues In Texas was the third song on the second.
But they lasted and I still play them today.
Yours Truly

Faron Collins